Floating Debris Collecting Water Weed Garbage Cleaning Harvester
Product description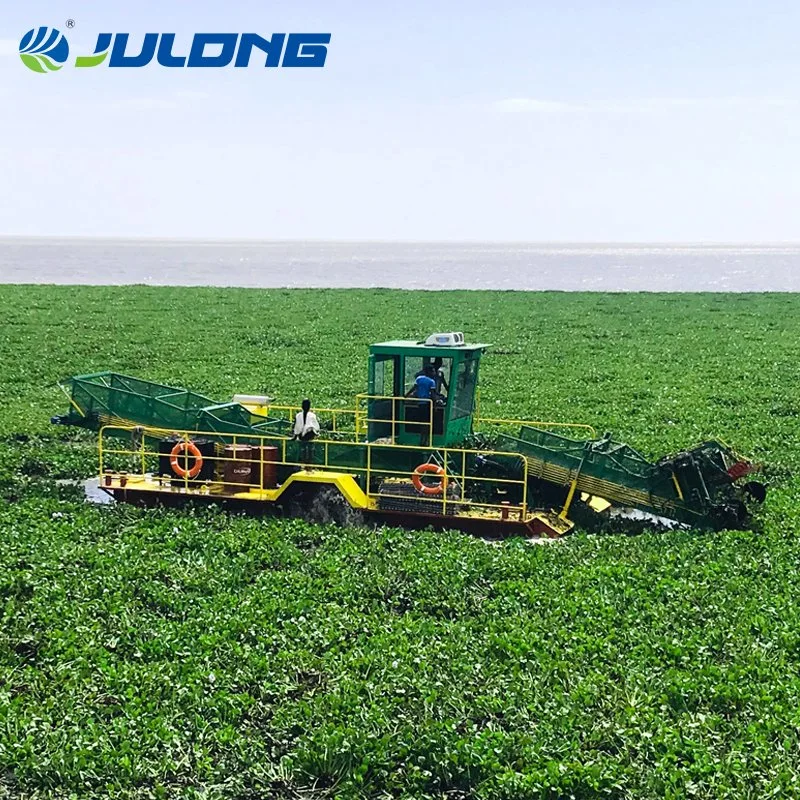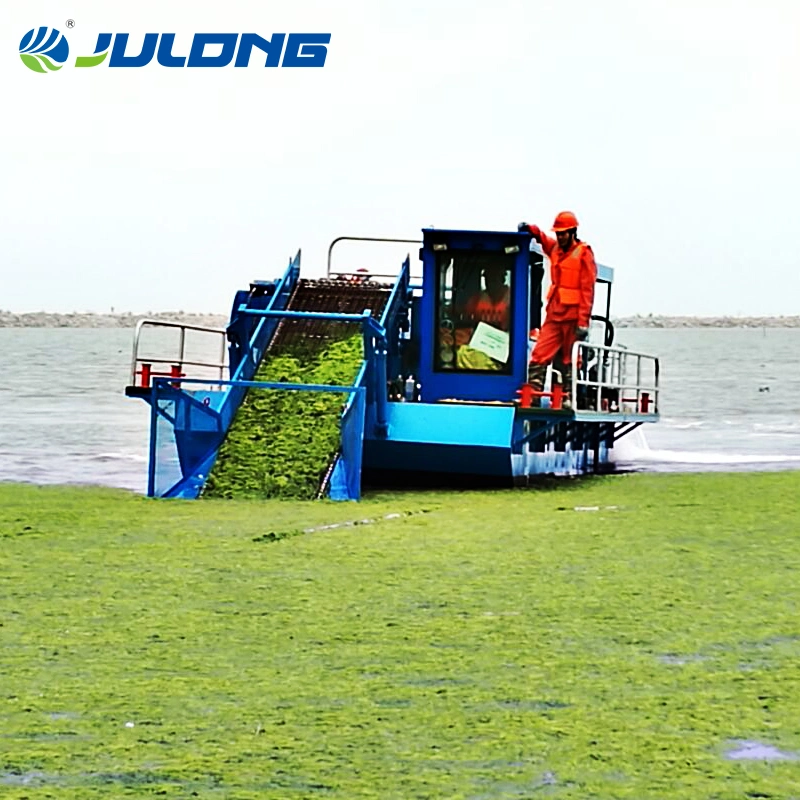 JuLong aquatic weed harvester is usually used in river,river,reservoir,canal and coasts for cutting, collecting,storing and transporting,water grass and floating garbage. All the equipment of the ship can work automatically and can save much labor force for its high efficiency.
Its hull consists two side pontoons. All the other equipment, including operation room, conveyor belting cabin, engine, are fixed by bolts. It is to be easy to dismantle for transportation by road, rail or water, and easy to reassemble at project site.
The machine is driven by paddle wheel instead of the screw propeller,which can make sure the wheel is not entangled by the underwater weed.The system is perfectly optimized so that the machine can work efficiently.
How the harvesters work
1.JuLong aquatic plant harvesters are hydraulically driven with reciprocating knives mounted on the harvesting head to cut the aquatic vegetation.
2.The vegetation is then transferred from the front conveyor to the storage hold,with the water filtrated during the transportation.
3.The storage conveyors are gradually filled up with tightly packed plants and this harvested weed is then transferred to the shoreline or into a dump truck via a shore conveyor.
Collecting Scope: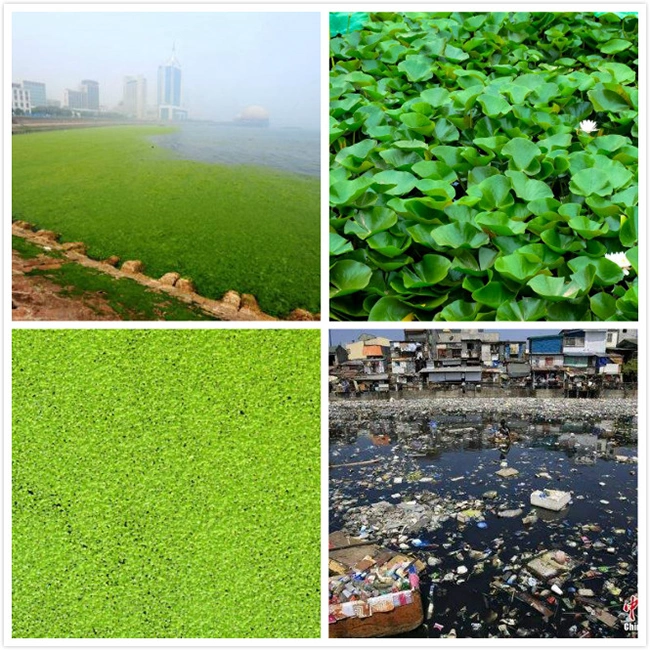 | | | | |
| --- | --- | --- | --- |
| Total Length | 16m | Total Width | 4.6m |
| Total Height | 2.8m | Vessel Body Length | 7m |
| Molded Breadth | 4.5m | Molded Depth | 0.8m |
| Collecting Width | 2m | Collecting Depth | 1.0m |
| Draft(Light Load/Full Load) | 1m | Weight | 14.1t |
| Carrying Capacity | 2.8t | Engine Power | 60kw |
| Working Navigational Speed | 3km/h | Transfer Navigational Speed | 6km/h |
| Endurance Ability | 24h | Drive Mode | Paddle wheel |
Main Features
1.Simple, rapid assembly& dismantling to guarantee the easy transportation

2.Spare parts are available and best after-sale service is provided.

3.High efficiency, minimum fuel consumption and overall operational costs

4.One man operation

5.Hydraulic control and stable performance
Photo Gallery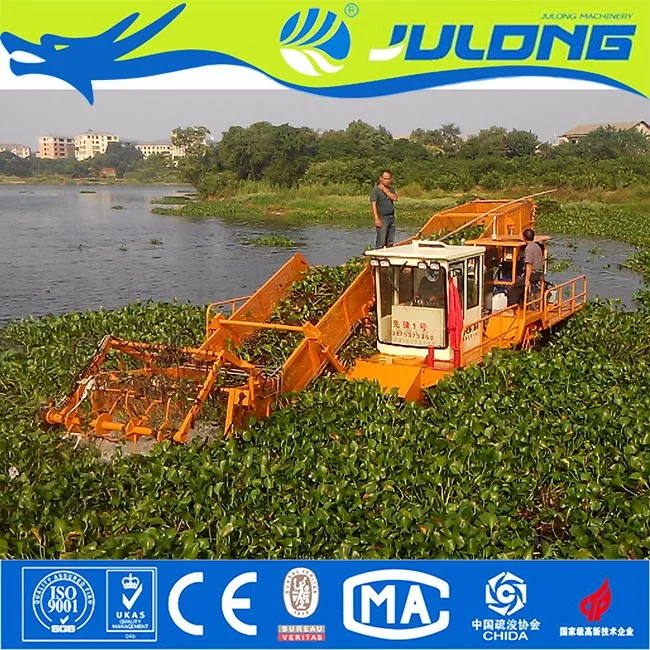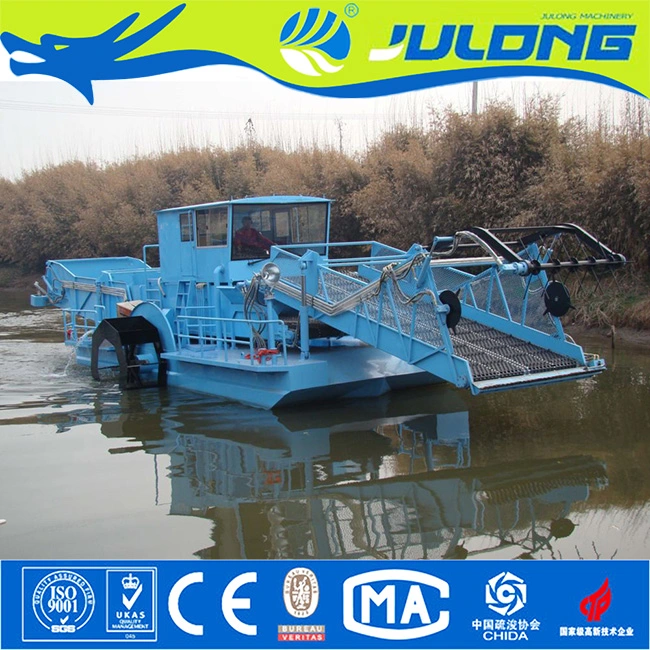 Certification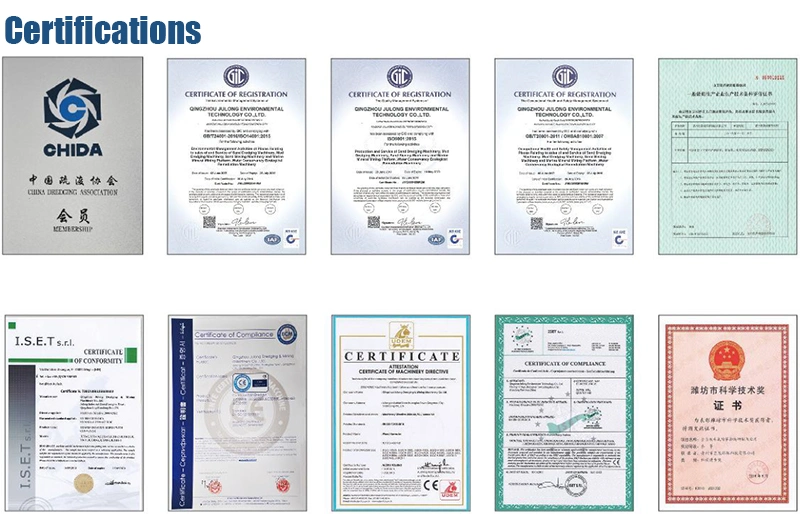 Our Service
1. Julong company signs a long-time after-sales service agreement with customers.

2.We provide rational and practical design according to customers' request.

3.We send engineers to assemble and test the machine within the period as agreed in the contract.

4.Within warranty period, we provide free repair if quality problems emerge.

5.We provide free training of operation and maintenance for customers.

6.We supply high quality accessories in low price.

7.We make an excellent filing of customers for long-term following-up service.