Trash salvage boat is one kind of water surface cleaning boat which is mainly used for collecting and salvaging floating trash, fallen leaves and decayed aquatic weed in canals, lakes, rivers and other water area. Besides trash salvaging, the boat can be used for aquatic weed cleanup. With the advantages of easy structure, long service life, low consumption and high efficiency, it is suitable to be used in watercourses, parks, power station and tourist attractions.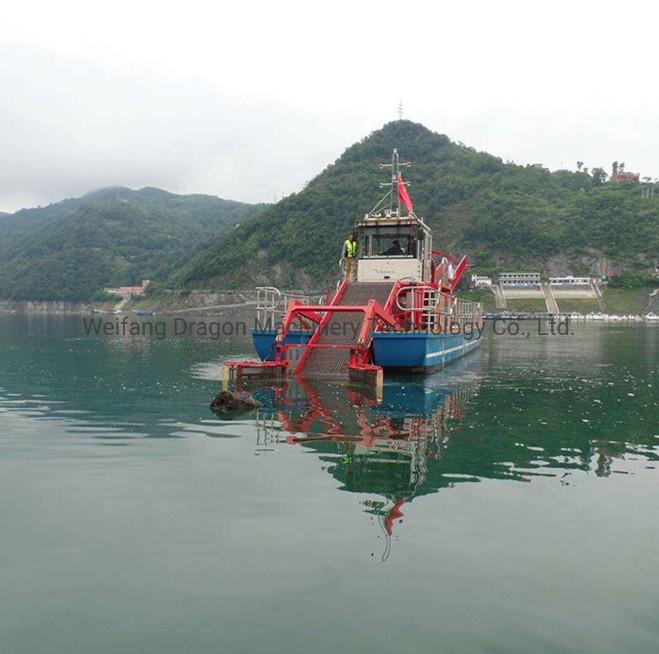 The trash salvage boat can be equipped with collecting rake, collecting arm, collecting wheel to increase the salvage area.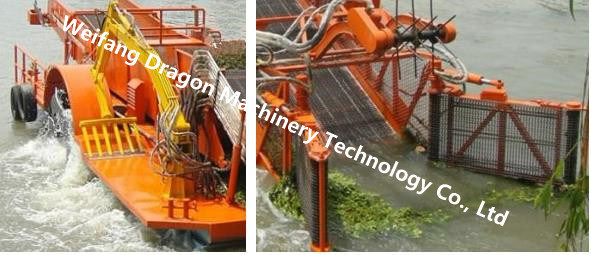 On the collecting conveyor, there are special barbs to increase the salvage capacity.


The boat cab can be designed in dismountable sunroof structure, in case there is low bridges in the working area.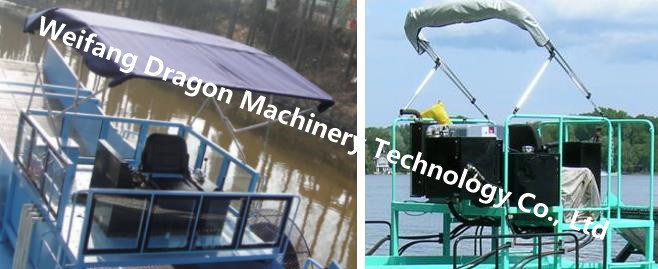 According to different working areas, the boat will choose different propulsion types, including paddle wheels and propellers.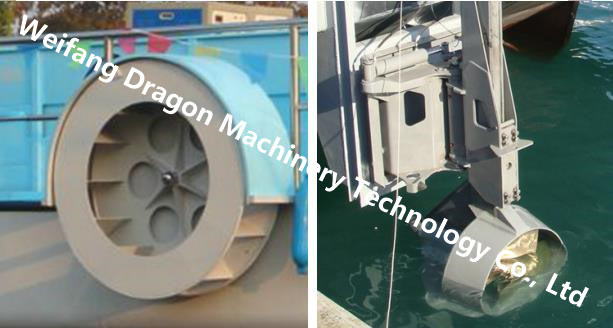 Dragon trash salvage boat can be used for salvaging floating algaes, tree branches and leaves, living and industrial rubbish.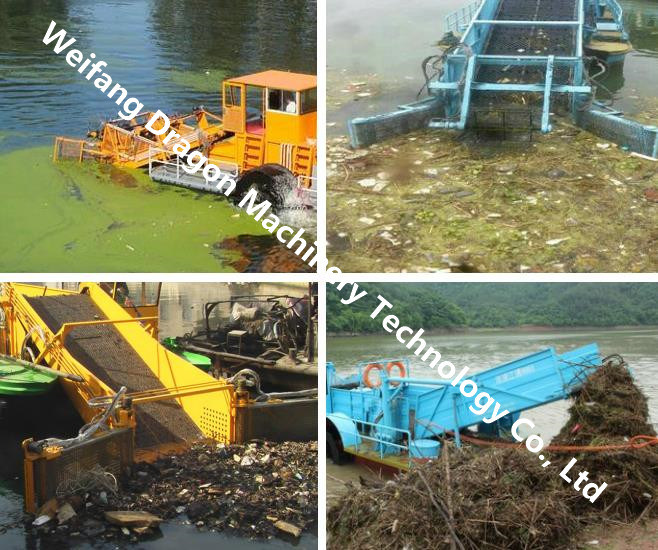 Specification
| | | | | | |
| --- | --- | --- | --- | --- | --- |
| Model | DGTSB1815 | DGTSB2020 | DGTSB3025 | DGTSB3535 | DGTSB4850 |
| Dimension | 10.0 x 3.2 x 3.0m | 11.1 x 3.8 x 3.0m | 12.6 x 3.8 x 2.7m | 13.8 x 4.0 x 3.7m | 17.5 x 5.4 x 4.1m |
| Weight | 5.4 t | 7.5 t | 11.2 t | 14 t | 17 t |
| Installed Power | 37 kw | 55 kw | 75 kw | 90 kw | 110 kw |
| Working Width | 1.8 m | 2.0 m | 3.0 m | 3.5 m | 4.8 m |
| Working Depth | 0.6 m | 0.8 | 1.0 m | 1.2 m | 1.5 m |
| Load Capacity | 1.5 t | 2.0 t | 2.5 t | 3.5 t | 5 t |
| Discharge Height | 2.0 m | 2.5 m | 2.8 m | 2.8 m | 3.0 m |
| Voltage | 24 v | 24 v | 24 v | 24 v | 24 v |
| Max. Fuel Consumption | 5-7 l/hr | 8-10 l/hr | 10-13 l/hr | 13-15 l/hr | 18-20 l/hr |
| Propulsion Method | Paddle Wheel / Propeller | Paddle Wheel / Propeller | Paddle Wheel / Propeller | Paddle Wheel / Propeller | Paddle Wheel / Propeller |
| Max. Sailing Speed | 5 km/hr | 5 km/hr | 7 km/hr | 8 km/hr | 8 km/hr |
Transportation & Movement
The boat can be transported by containers, truck and trailers on the basis of modular designing, which makes the boat start work in short time after arriving at the site.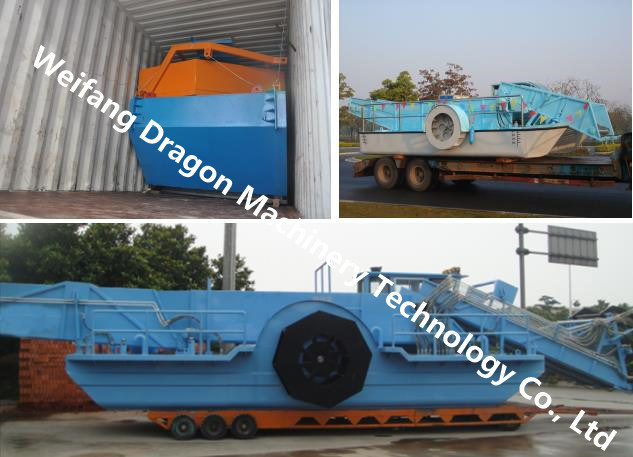 Our Designing Ability
DRAGON team has excellent mechanical design and industry optimization ability to fulfill different customized requests. The technical team is formed by doctors, researcher and engineers, equipped with designing system of CAD, Solidworks, UGNX, simulation software and programming software, which ensures the precision and reliability of each project from designing to manufacturing. We always prefer the objective of self-innovation and invest more than 8% of the total turnover to R&D.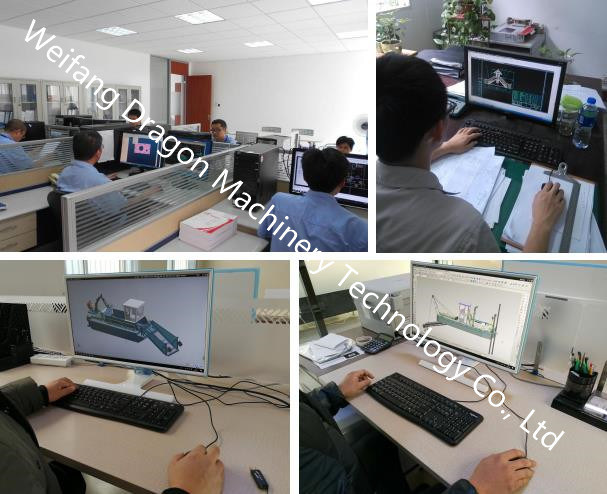 Our Manufacturing Ability
Our factory is equipped with all kinds necessary manufacturing facility, including CNC cutting machine, welding robot, digital controlled lathes, machining center, milling machine, grinding machine, punching machine, and surface handling line. With all these facility, we can complete all the kinds of machining work, plate welding, finishing and painting.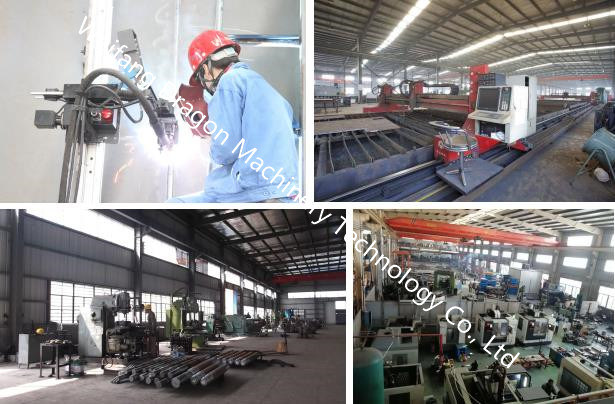 After-sale Service
DRAGON customers rely on the unrivalled level of commitment that is offered to them through dedicated and comprehensive life-cycle support services. These help to maximise the equipment's availability and the return on investment, and therefore reduces the total cost of ownership. The cycle can be entered at any of its integrated stages.
DRAGON supplies high-quality and up-to-date training services for the site operation people to ensure that crews operate the dredger in a highly skilled and efficient manner to achieve optimum levels of productivity. DRAGON life-cycle support also allows operators to maintain the durability and reliability of their systems through a range of specialist services.
DRAGON team wants to be prepared for every eventuality and provide limitless logistical support to its customers.This includes attention to system availability with the immediate supply of spare parts and repair of components.With this approach, the complete DRAGON global network of qualified service technicians,sourcing officers and local service offices is available to all customers.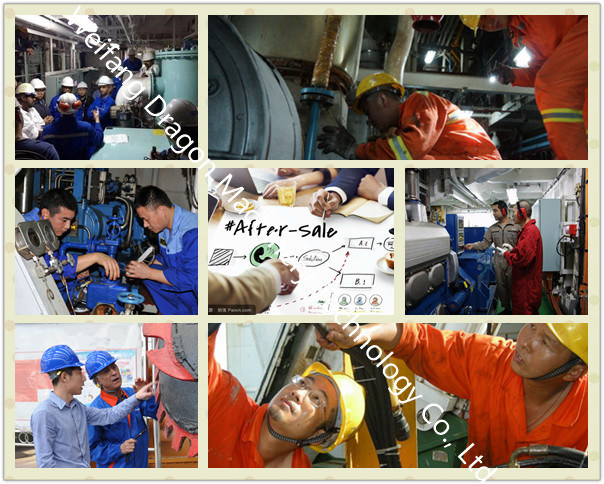 Other Products
Dragon products scope covers all kinds of dredger, aquqtic weed harvester, amphibious excavator, workboat, backhoe barge, jack-up platform.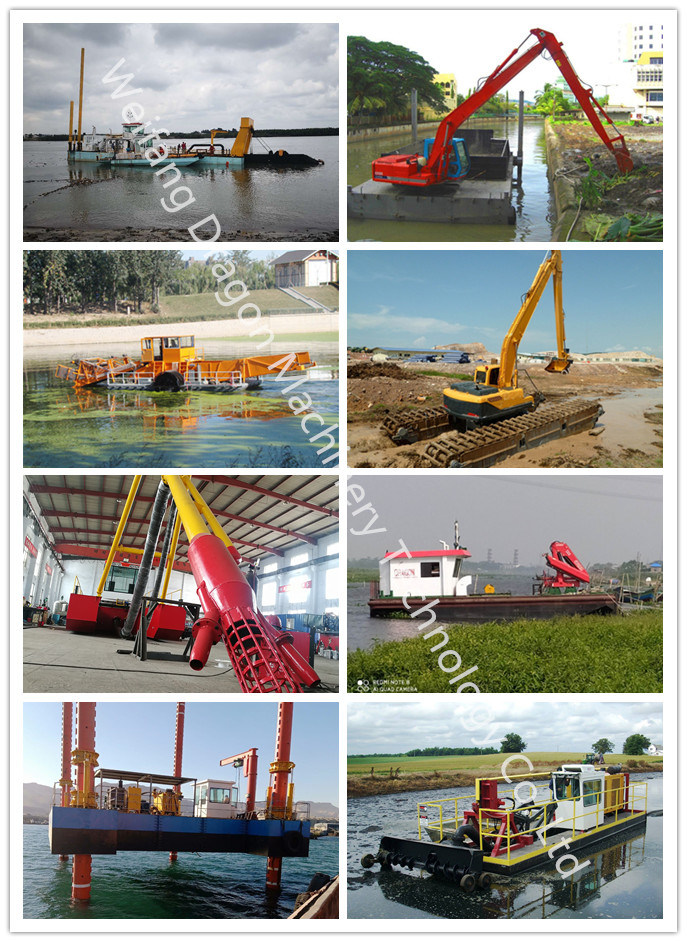 FAQ
Q1: Do you have your own factory?
A1: Yes, our parent company is Weifang Dragon Machinery Technology Co.,Ltd., it is specialized in manufacturing dredgers and amphibious excavators and other machineries.
Q2: Can we visit your factory?
A2: Sure, we sincerely welcome you to visit and check our factory, we would show you around of our workshop.
Q3: Do you also supply the accessories of dredgers?
A3: Yes, we have cooperated companies to supply you the accessoriess and other spare parts.
Q4: Do you have aftersale service center overseas?
A4: Yes, we have aftersale service center in Nigeria which will cover Africa area and in Bangladesh which will cover Southasia and mideast area.
Q5: Can you costomize the equipment according to client's inquiry?
A5: Yes, we have the design team which can make customized design for clients.
Q6: Will you send engineers to install and debug the machines in client's site?
A6: Yes, we will send 3-4 engineers to client's site for installation and commissioning of the machine.
ISO 9001 Certificate