Advantages of SINOWAY Undercarriage Pontoons
Durable Hydraulic Undercarriage Pontoons
The hydraulic undercarriage pontoons are extremely important to an amphibious excavator, Sinoway is pride of his abundant experience on manufacturing pontoons that last. According to your application requirement and working conditions, we areable to design and produce an amphibious excavator specially for your working area
covering swamps, salty land, off-shore, river area and so forth.
Well protected hydraulics
hydraulic hosed are well protected by the full sealed container which minimize the possibility of damage these parts when working in swamp or water area.
Three-piece welding
The pontoons are now welded with three-piece steel sheet structure in stead of normal four-piece, two bent steel plates are connected on the top, thus the eliminating of long welding seam makes the whole pontoon even durable and neater.
Heavy duty chain link and wearproof liner
Sinoway swamp buggy comes with steel track cleats with specially design to against wearing and distortion. The material of the track plates is wear.proof steel plate, with extra toughness, special stud plate structure inside the track cleat to make it strong enough to supporting the pontoons and upper excavator.
Product Show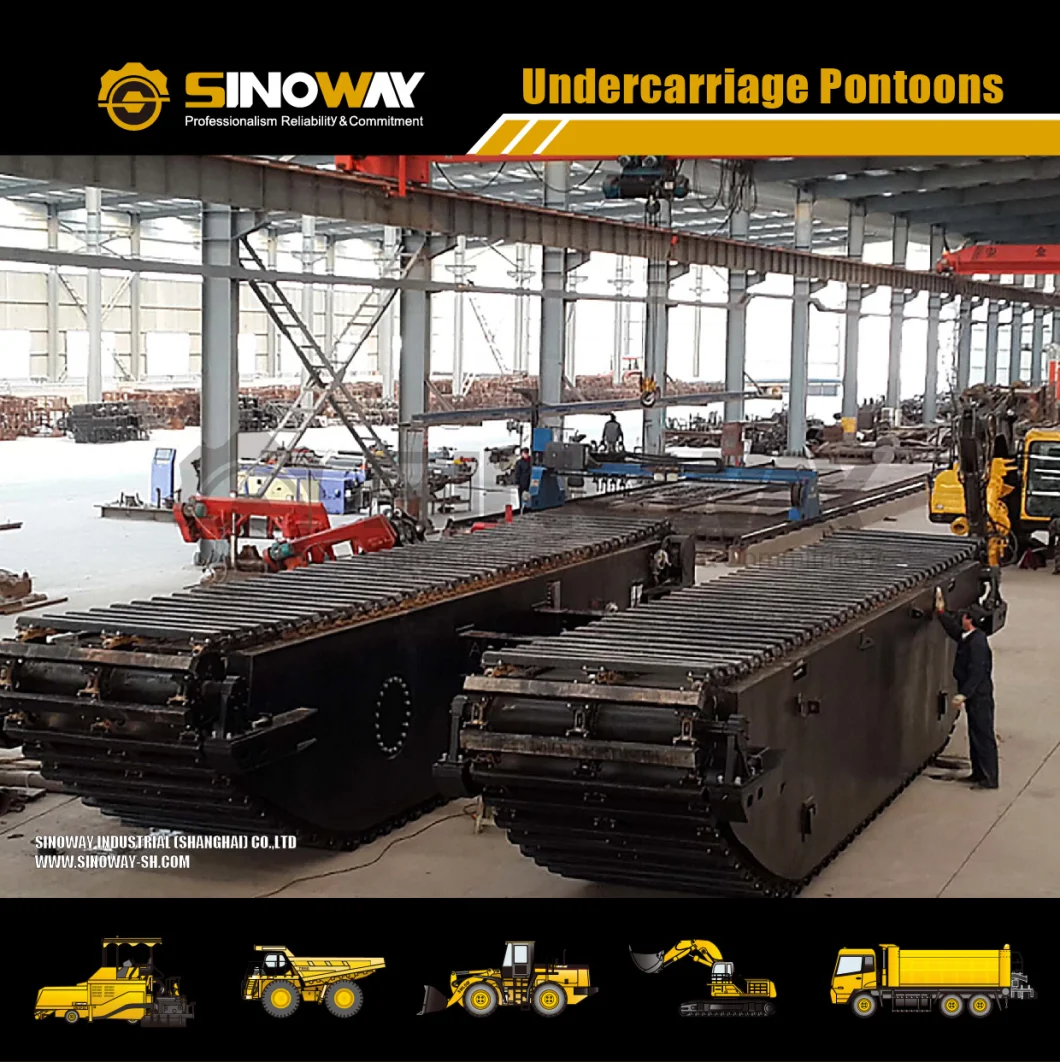 Specifications
Pontoon
SWPU60
SWPU70
SWPU80
SWPU90
SWPU100
Pontoon length
6.7 m
7.1 m
8.5 m
9.5 m
10.2 m
Pontoon width
1.3 m
1.5 m
1.5 m
1.5 m
1.7 m
Pontoon height
1.4 m
1.5 m
1.5 m
1.5m
1.76 m
Track material
Steel or PE
Steel or PE
Steel or PE
Steel or PE
Steel or PE
Track width
1270mm
1454mm
1700mm
1700mm
1700mm
Chain numbers
2
2
3
3
3
Matching upper excavator
8 ton
(CAT 308)
13~15ton
(CAT 311,312,314)
20~23ton
(CAT 320)
24~26ton
(CAT 321,324)
25~28ton
(CAT 324,329)
Why Choose Us