Double Moter Flap Barrier Gate Acrylic Counter Turnstiles With Brushless DC Motor
Flap barrier : It is mainly used for the entrance and exit management of the
passage. It has the characteristics of fast opening, safety and convenience. It is an
ideal management and guidance equipment for high-frequency entrance and exit
passages for pedestrians. Widely used in airports, subway stations, stations,
terminals, attractions, parks, shopping malls, office buildings, pedestrian
walkways and other places.


| | |
| --- | --- |
| Moduel No. | LD-Y603 |
| Size | 1200* 980*280mm ( can be customized) |
| Material | stainless steel 304 + tempered glass + acrylic black powder coating part cold rolled steel plate |
| Channel width | 550-900mm (can be customized) Standard channel 550mm |
| Thickness of the cabinet | 1.2-1.5mm |
| Passing speed | 35-40 persons / minute |
| Communication interface | RS232 |
| Opening time | 0.2s |
| Working temperature | -30 ° ° C ~ 70 ° ° C |
| Drive motor | Brushless DC 24V |
| Life | 9 million times |
| Power | 30-40w |
| Working voltage | AC100-240V |
| Working environment | indoor and outdoor (outdoor canopy) |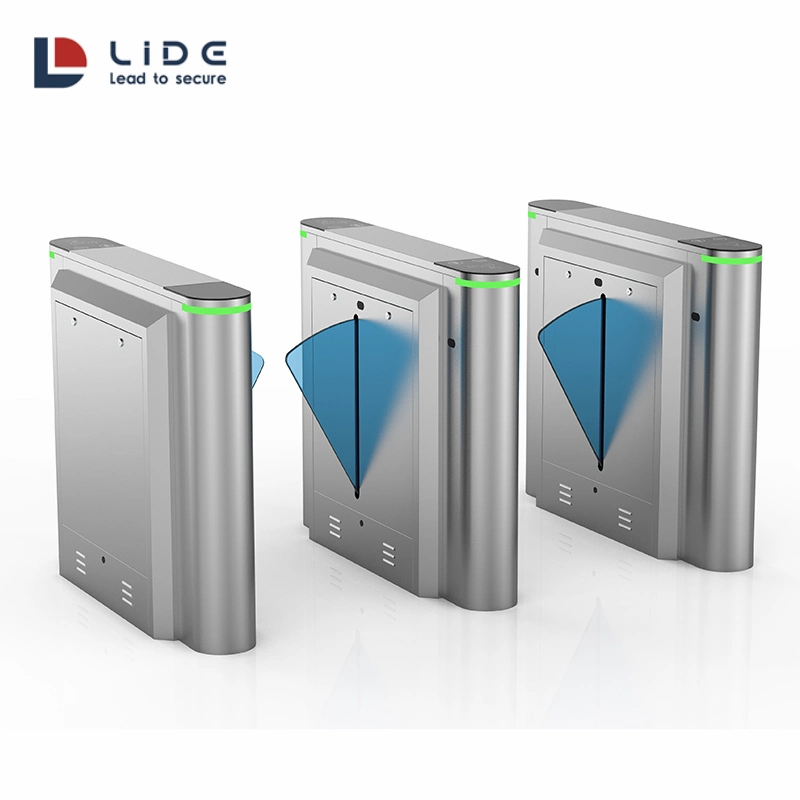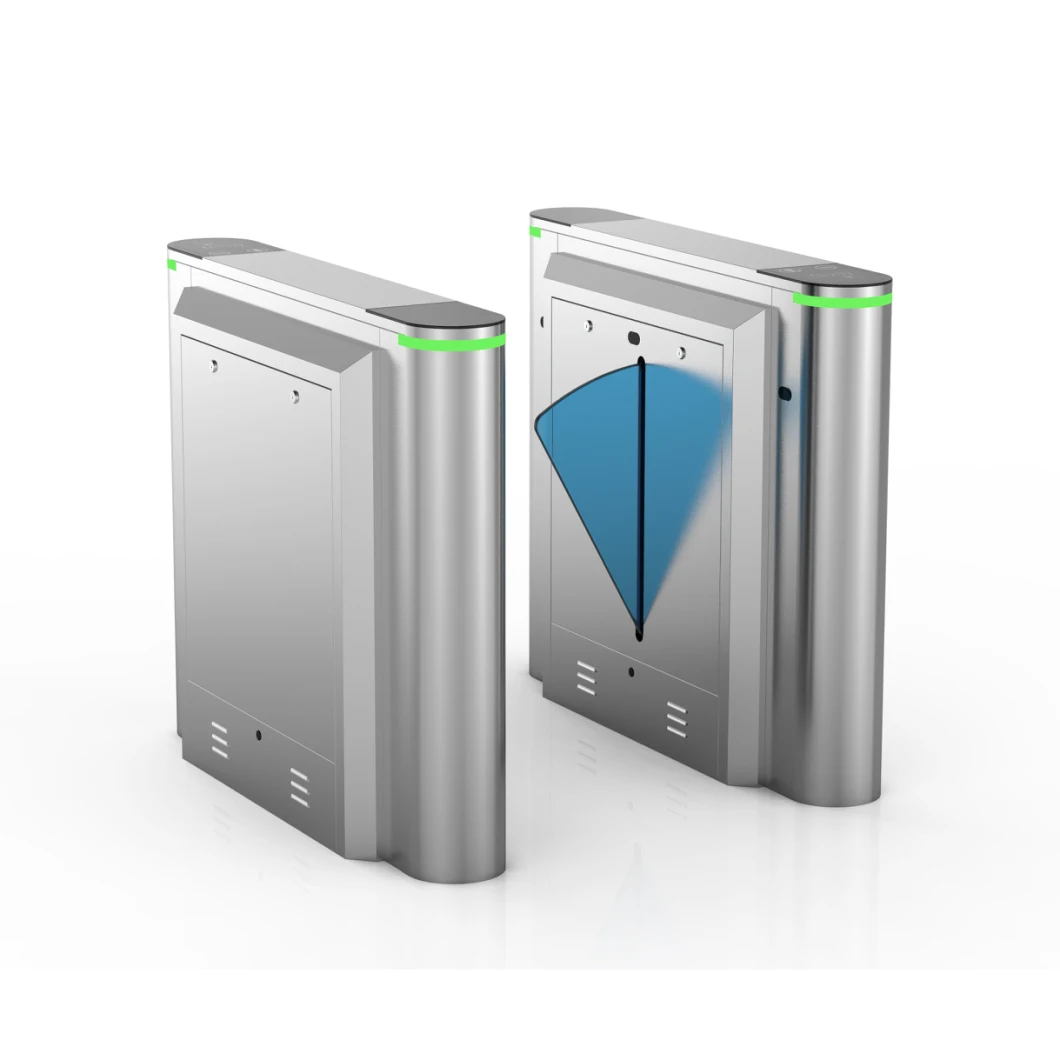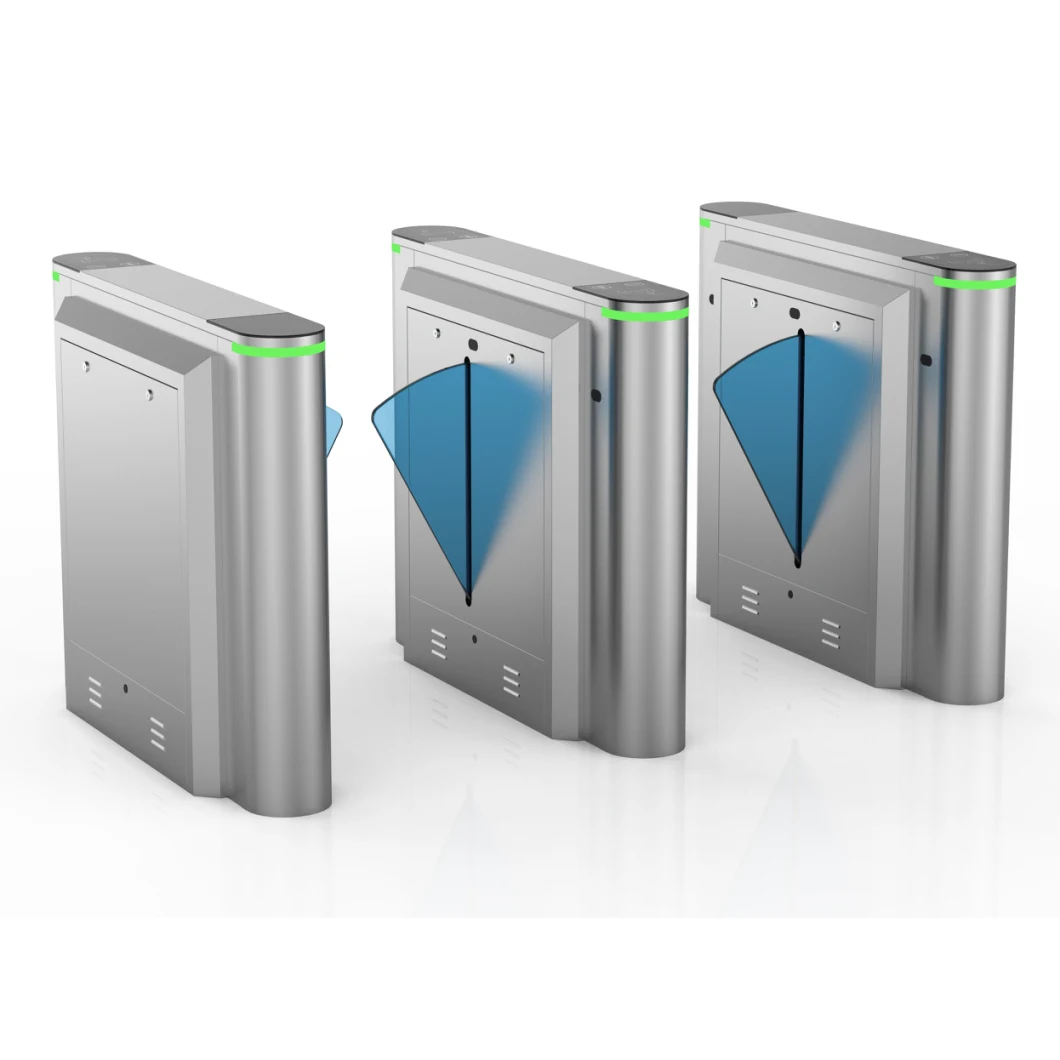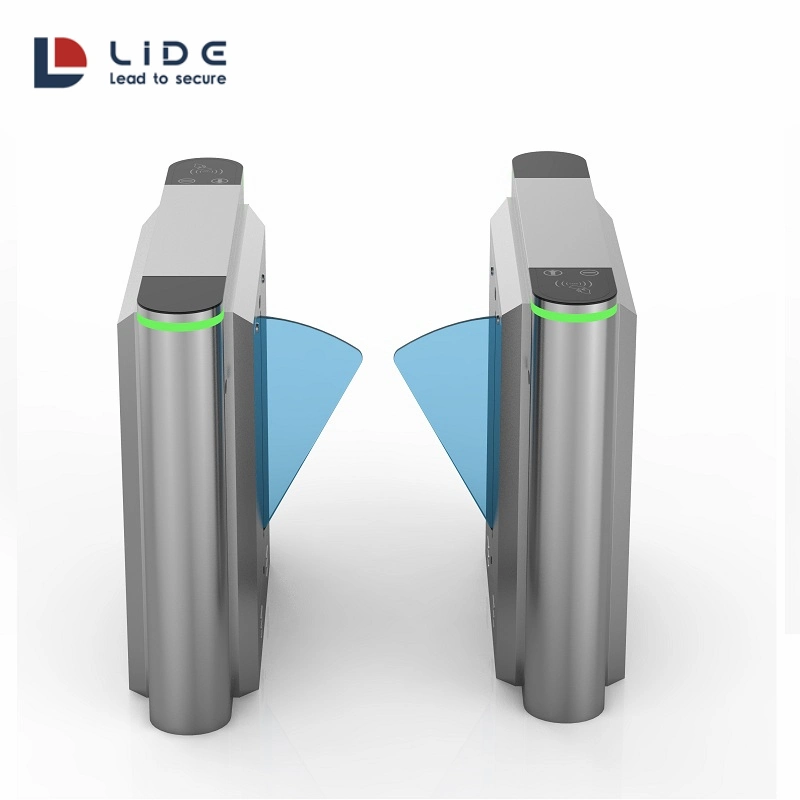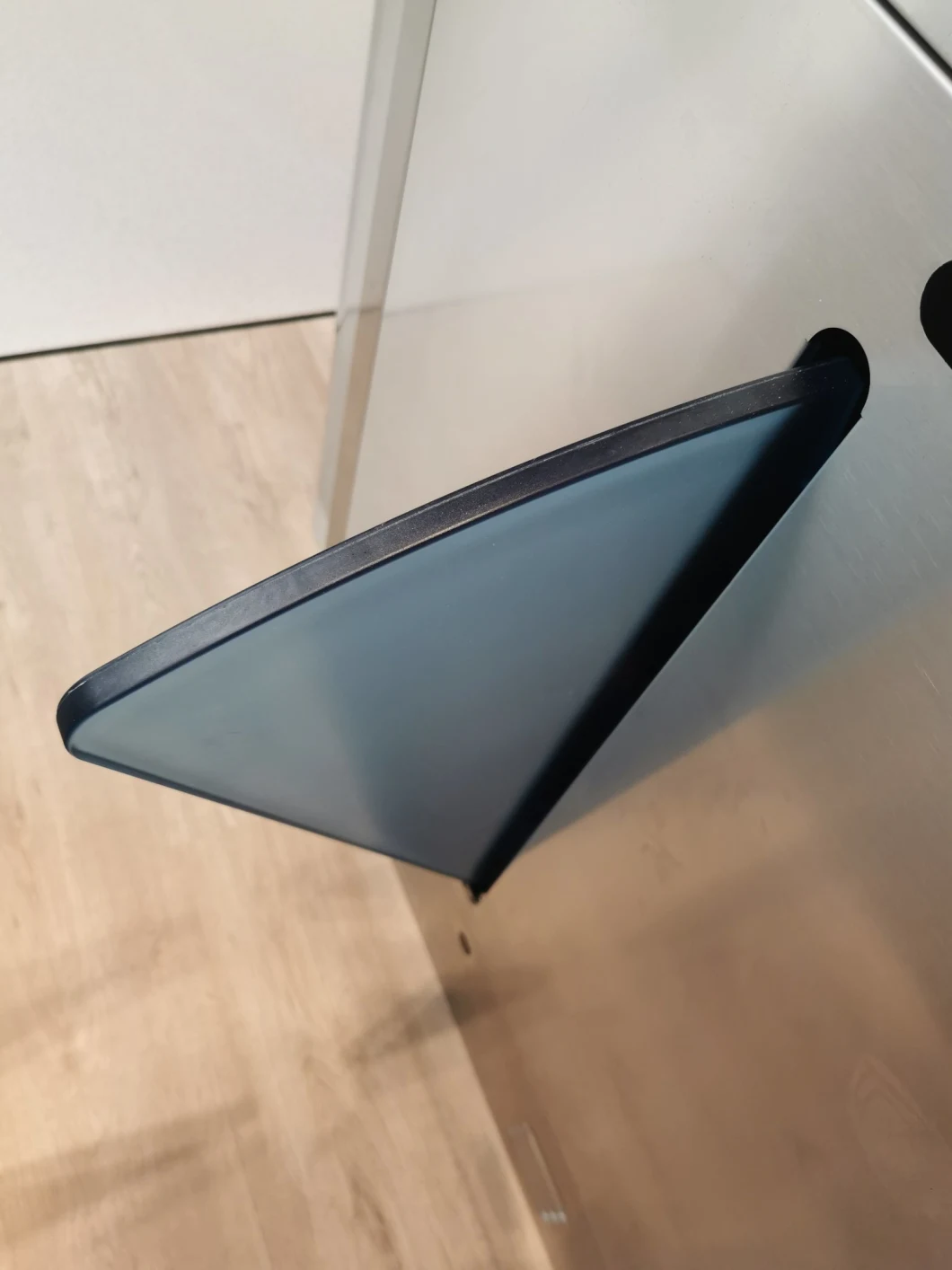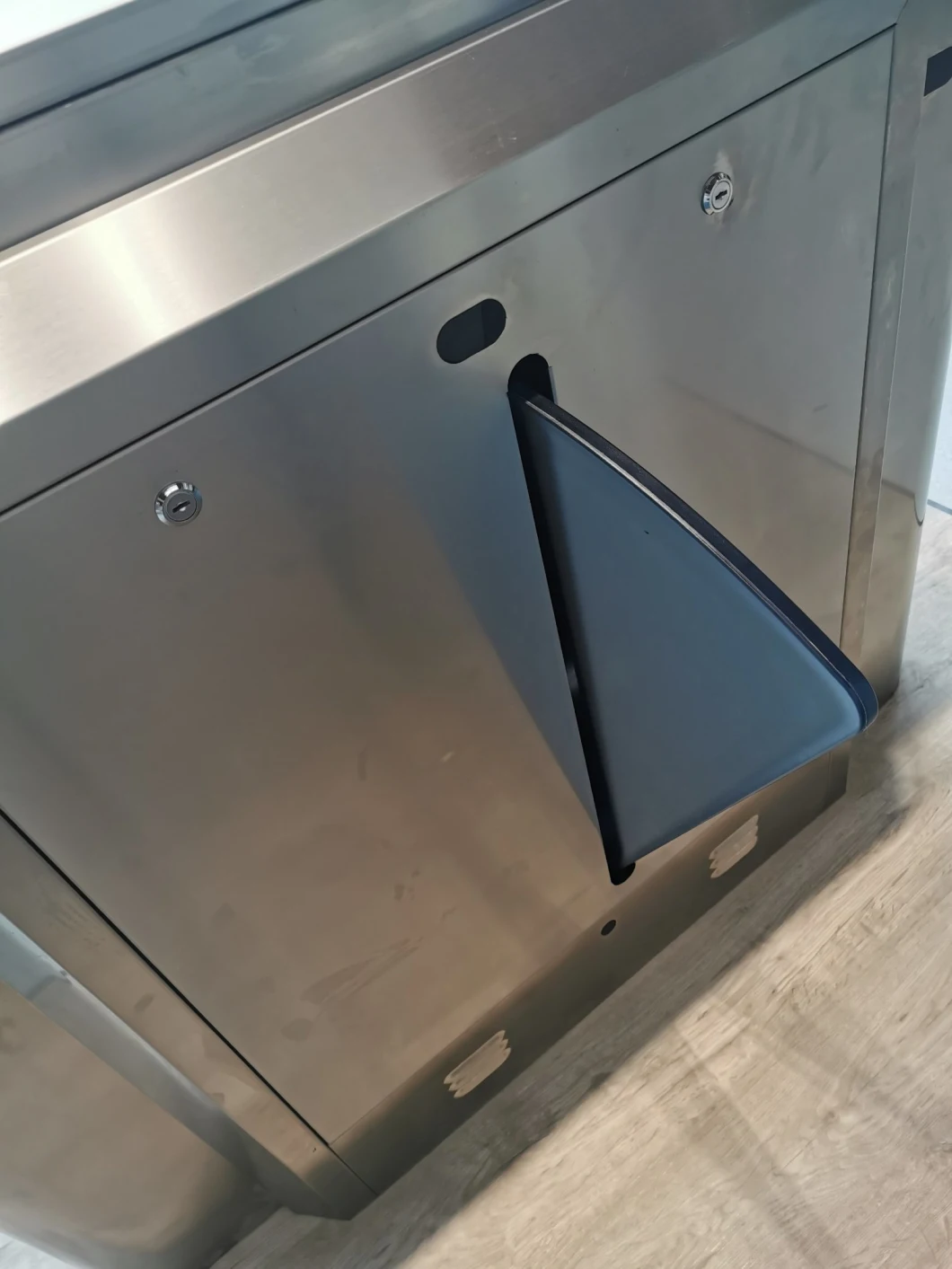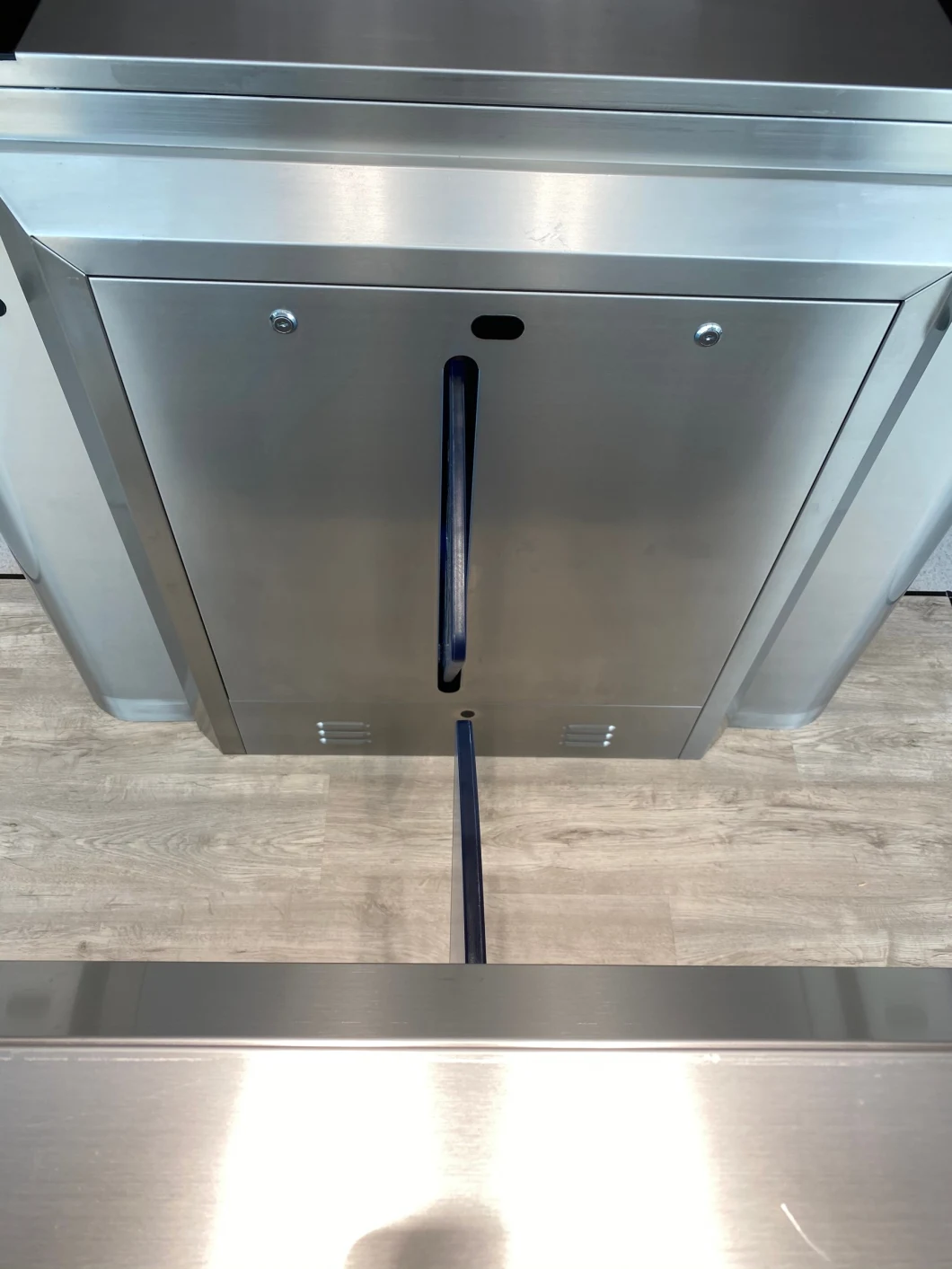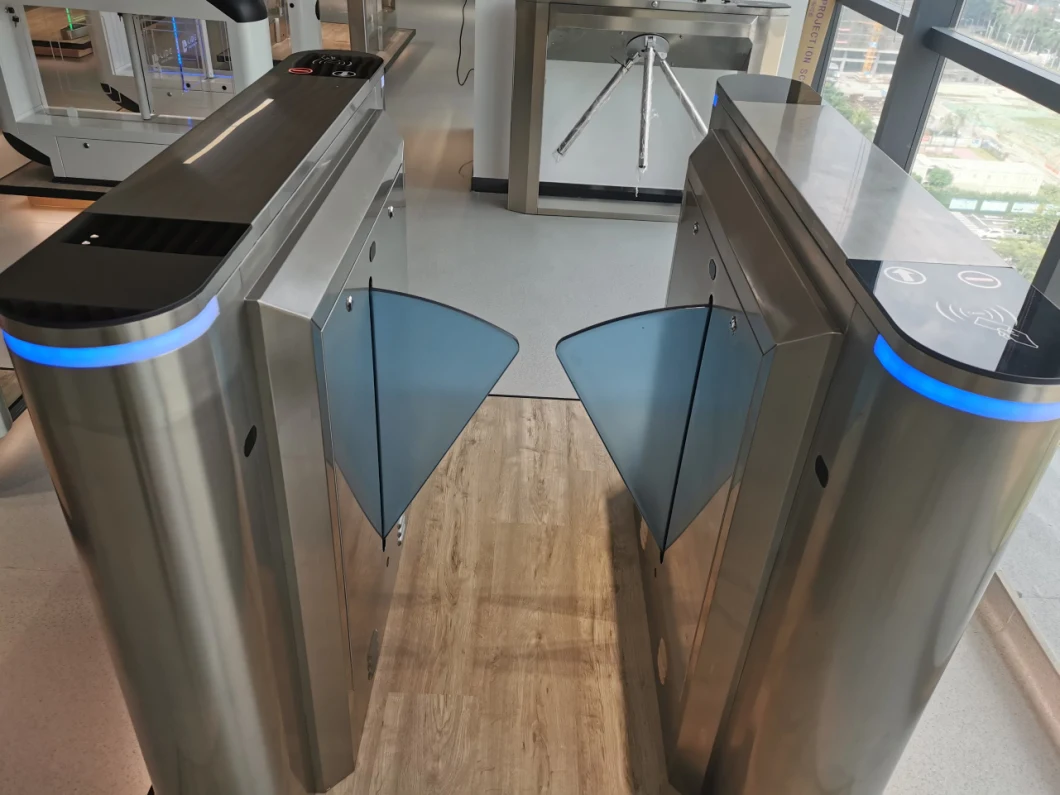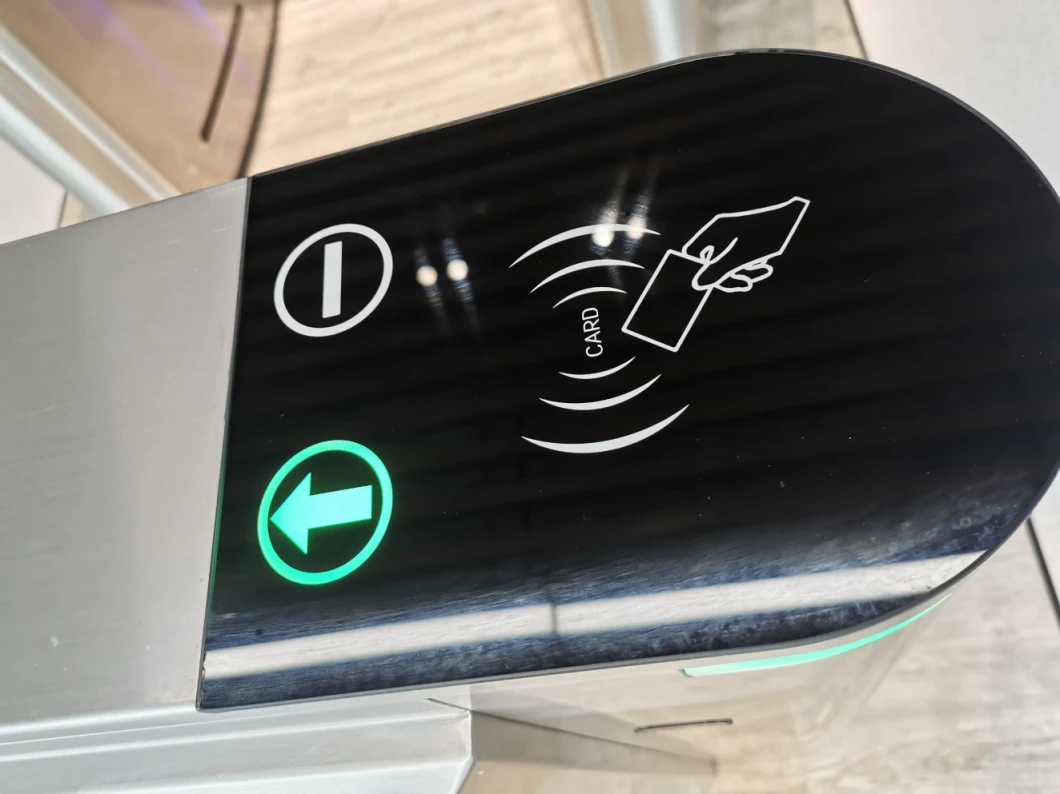 I. Standard parameters:
1. Material: stainless steel 304 + tempered glass + acrylic black powder coating
part: cold rolled steel plate
2. Size: 1200* 980*280mm ( can be customized)
3. Channel width: 550-900mm (can be customized) Standard channel 550mm
4.Box thickness: 1.2-1.5mm
5.Passing speed 35-40 people / minute
6. Communication interface: RS232
7. Opening time: 0.2s
8. Working temperature: -30 ° C ~ 70 ° C
9. Drive motor: Brushless DC 24V
10. Life: 9 million times
11. Power: 30-40w
Function:
(1) Automatic return function: After the passage process is completed, the brake
wings automatically return to the initial blocking position.
(2) Power-off and opening function: When the power is off, the system will
automatically open the brake wings to open, which is convenient for evacuation
of the crowd and meets fire protection requirements.
(3) Anti-illegal intrusion function: When the card is invalid, there is no card
swiping, or the passage is forbidden, the forcible entry into the channel will be
regarded as illegal intrusion, and the system will automatically alarm and close
the flap.
(4) Anti-reverse intrusion function: Before the end of the passage process in a
certain direction, pedestrians entering the passage from the opposite direction
will be regarded as reverse intrusion, the system will automatically alarm and
close the wing.
(5) Anti-trailing function: The photoelectric switch detects the pedestrian traffic
situation, and detects the following phenomenon (the people behind are close to
the person in front, intending to pass without swiping the card), the system will
automatically alarm and close the brake wings.
(6) Intelligent linkage alarm: including illegal intrusion, reverse traffic and other
alarms, which can be linked with other alarm monitoring equipment and can be heard.
(7) Anti-pinching and anti-collision function:
A. Infrared anti-pinch: Install multiple pairs of photoelectric switches near the
area where the wing is active (anti-pinch area). Once a person or object is
detected in the anti-pinch area, the wing automatically stops; The flaps
continued to move.
Product advantages
1. Cabinet part:
1.1. Frame material: 304 #, thickness 1.2- 1.5 mm;
1.2. Multi-layer drawing on the surface of the frame;
1.3. The frame is welded by fixtures;
2. Drive Movement part:
2.1. Low noise;
2.2. Movement frame material 6061 profile aluminum;
2.3. The inner guide pulley adopts metal bearings;
3. Electric control accessories:
3.1. Switching power supply adopts brand power supply to make its operating
voltage more stable;
3.2. The infrared sensor uses a domestic brand, and the internal parts are
imported parts;
Third, customized extended functions:
1.Counting and alarm functions;
2. The material of the flap (retractable arm) is acrylic or soft flap. The colors are
red, black and blue. The amount can be customized separately
3. Case material is mainly 304 stainless steel, other materials can also be
customized
4.Remote control switch
5. Dynamic face recognition
6. Can add emergency escape function, in the case of special emergency, start by
remote button
7. The communication interface is mainly RS232 / RS485, other interfaces
8.Box thickness standard 1.5mm can be customized 2.0mm
10. Fingerprint recognition of time attendance
11. QR code pass
FAQ:
1. How about your company's actual strength?
We are the professional manufacturer in turnstiles in China. We have more than 100 employees, a R&D group with 5 people, 1 HQ office and 3 branches. Factories and office buildings are 2000 square meters in total.
2. How about the quality of your products?
We are in the highest level of quality with the most competitive price. For example, we use international standard China-Japan Baoxin stainless steel 304 stainless steel, Taiwan Minwei electric supplier, belt import from German, 3M clue import from America etc.
3. How about the lead time?
Normally we have stock for the hot sale models of standard products. Generally standard products need 7-10 working days.The customized products need 15-20 working days.
4. How long is your warranty period?
18 months. Life time spare parts.
5. How about your package?
Exported product: Wooden case package of Export exempted from inspection plus pearl wool and plastic wrap
Domestic: Bubble wrap plus carton or pearl wool plus wooden packaging