Trash salvage boat is one kind of water surface cleaning boat which is mainly used for collecting and salvaging floating trash, fallen leaves and decayed aquatic weed in canals, lakes, rivers and other water area. Besides trash salvaging, the boat can be used for aquatic weed cleanup. With the advantages of easy structure, long service life, low consumption and high efficiency, it is suitable to be used in watercourses, parks, power station and tourist attractions.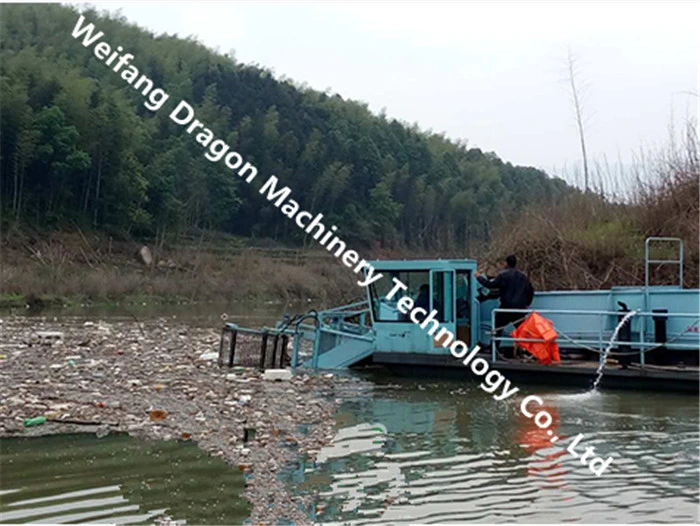 The trash salvage boat can be equipped with collecting rake, collecting arm, collecting wheel to increase the salvage area.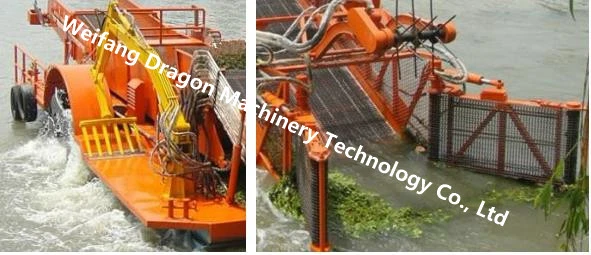 On the collecting conveyor, there are special barbs to increase the salvage capacity.

The boat cab can be designed in dismountable sunroof structure, in case there is low bridges in the working area.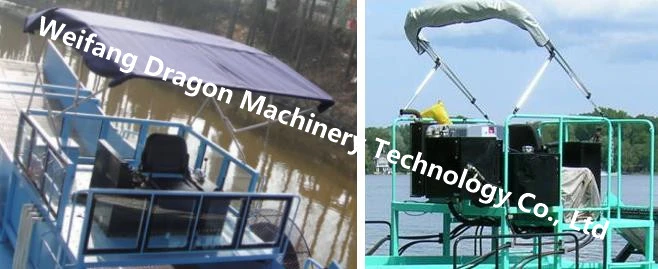 According to different working areas, the boat will choose different propulsion types, including paddle wheels and propellers.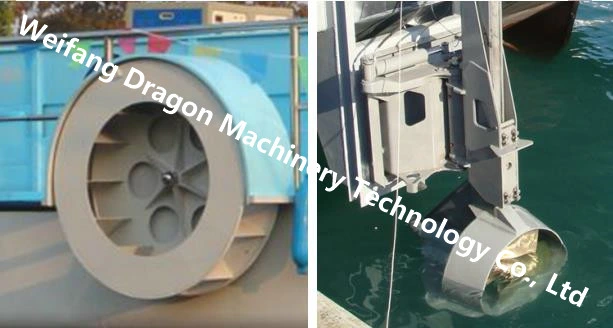 Dragon trash salvage boat can be used for salvaging floating algaes, tree branches and leaves, living and industrial rubbish.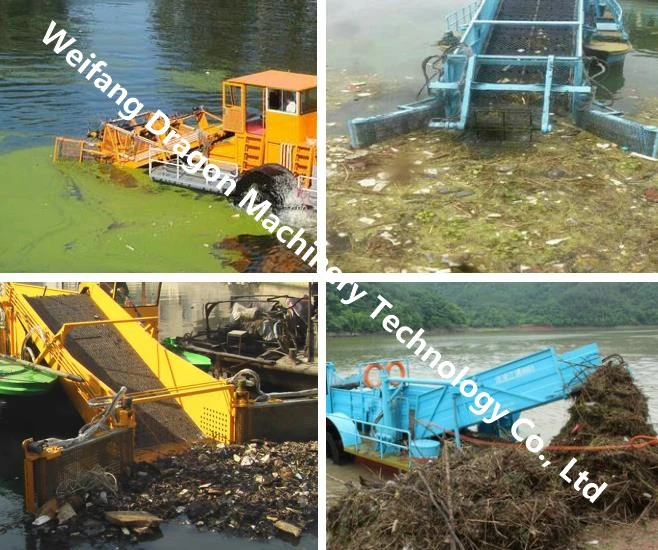 Specification
| | | | | | |
| --- | --- | --- | --- | --- | --- |
| Model | DGTSB1815 | DGTSB2020 | DGTSB3025 | DGTSB3535 | DGTSB4850 |
| Dimension | 10.0 x 3.2 x 3.0m | 11.1 x 3.8 x 3.0m | 12.6 x 3.8 x 2.7m | 13.8 x 4.0 x 3.7m | 17.5 x 5.4 x 4.1m |
| Weight | 5.4 t | 7.5 t | 11.2 t | 14 t | 17 t |
| Installed Power | 37 kw | 55 kw | 75 kw | 90 kw | 110 kw |
| Working Width | 1.8 m | 2.0 m | 3.0 m | 3.5 m | 4.8 m |
| Working Depth | 0.6 m | 0.8 | 1.0 m | 1.2 m | 1.5 m |
| Load Capacity | 1.5 t | 2.0 t | 2.5 t | 3.5 t | 5 t |
| Discharge Height | 2.0 m | 2.5 m | 2.8 m | 2.8 m | 3.0 m |
| Voltage | 24 v | 24 v | 24 v | 24 v | 24 v |
| Max. Fuel Consumption | 5-7 l/hr | 8-10 l/hr | 10-13 l/hr | 13-15 l/hr | 18-20 l/hr |
| Propulsion Method | Paddle Wheel / Propeller | Paddle Wheel / Propeller | Paddle Wheel / Propeller | Paddle Wheel / Propeller | Paddle Wheel / Propeller |
| Max. Sailing Speed | 5 km/hr | 5 km/hr | 7 km/hr | 8 km/hr | 8 km/hr |